Patrick Emery Named Honoree of SRJC Ag Trust's 2023 AgStravaganza
Santa Rosa attorney and community leader's contributions will be celebrated at May 13 Event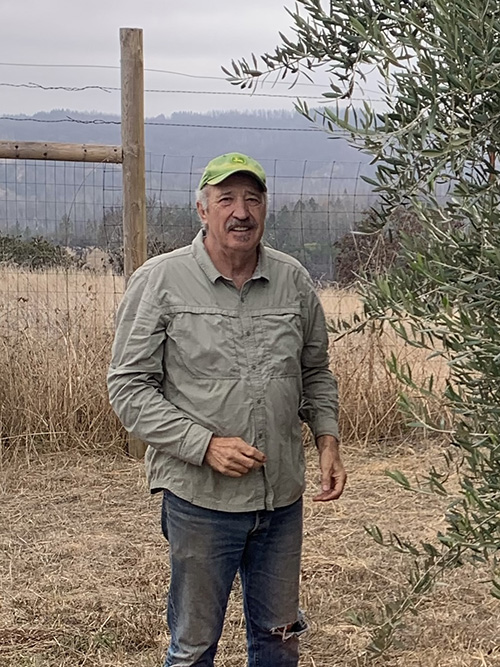 Patrick W. Emery is the intersection where gentlemanly style meets scholarly substance. He is a distinguished lawyer and dedicated community leader who over the last half century emerged as one of Sonoma County's most respected citizens.
Emery's impressive legal career, spanning nearly five decades, has been punctuated with extensive community service, ranging from his years on the Sonoma County Fair Board to chairmanship of the Sonoma County Civil Service Commission. Whether in the courtroom or presiding at a fair board meeting, Emery is known for his polish, persuasive arguments and strong convictions. It's in his DNA to do the right thing.
Along the way, Emery, a top trial lawyer who lives in Santa Rosa, has supported and assisted 4-H, FFA, agriculture education and Santa Rosa Junior College, believing agriculture is the heart and soul of Sonoma County. Agriculture leaders say the county's farming industry is fortunate to have a skilled advocate like Emery in its corner.
In recognition of his lifetime of accomplishments in law and building the community he calls home, the Santa Rosa Junior College Foundation's Ag Trust has named Emery the honoree for its 2023 AgStravaganza, which will be held May 13 at SRJC's Shone Farm near Forestville. Emery's many contributions will be celebrated at the gala, which includes dinner, tribute and an auction. The event raises funds for SRJC's Agriculture & Natural Sciences Department and the 365-acre Shone Farm, a hands-on learning ground for students enrolled in classes ranging from viticulture and winemaking to organic vegetable production and forestry.
Agriculture leader Terry Lindley, past president of the Santa Rosa Junior College AgTrust and honoree of the 2017 AgStravaganza, said Emery is an exemplary leader who has focused his efforts on enhancing agriculture and education. It was all done, Lindley said, while building a very successful and respected legal practice.
"Pat is a well-rounded gentleman who is organized, bright and articulate. He has had an amazing career both in and out of the courtroom," said Lindley, who serves with Emery on the Sonoma County Fair Foundation. Emery is a founder and president of the Fair Foundation. Emery's rise to the top is pretty remarkable for a farm kid who grew up in the remote Sierra Foothills and, for a time, did not have a clear path forward. But as a member of the Future Farmers of America – and with wise mentoring by his high school ag teacher - he learned valuable life lessons, like responsibility and respect for others, to script his future.
Emery's high school academic achievements, leadership and athletic prowess earned him admission to Harvard University where he graduated cum laude with a degree in English literature.
After he completed his military obligation as a member of the Army National Guard, he earned a law degree from the University of California. He was a member of the law school's sixth graduating class along with Les Perry, who would become another prominent attorney in Sonoma County as well as Emery's close friend and fellow member on the Sonoma County Fair Board.
In 1974, Emery settled in Santa Rosa, knowing that Sonoma County was poised for growth and would provide some challenging legal work because of its proximity to the San Francisco Bay Area and beyond. He wanted to be in a court room arguing important and interesting cases, not in a drab office writing wills and divorce settlements.
"I didn't want to be a small-town lawyer. I guess I was ego-driven enough that I wanted to be a player on some significant level. It was very important for me to work with the people who were at the top of my profession," said Emery, who is 74. He is mostly retired from active legal work but remains "in counsel" at the firm Abbey, Weitzenberg, Warren & Emery.
For many years Emery taught Trial Practice at Empire College of Law in Santa Rosa and at the Trial Advocacy Workshop at Stanford Law School. For five years he taught a class in agriculture law at Santa Rosa Junior College, learning the value of this 100- year old institution to the people looking to improve their lives through education.
Looking back, Emery said, he had challenges and success beyond his wildest dreams, winning major court cases against well-funded, big-gun law firms.
His court triumphs did not go unnoticed by fellow trial attorneys. In 2009 he was elected a fellow of the American College of Trial Lawyers. It's the pinnacle of recognition for a trial attorney, with only one percent of all trial lawyers in the U.S. and Canada elected to the prestigious body. At the group's annual meeting in Washington, D.C. there is a dinner with the justices of the U.S. Supreme Court.
Emery said at one of the Trial Lawyers' gatherings he had the opportunity to meet the late Supreme Court justice, Antonin Scalia. After talking with Scalia, Emery reflected on how far he had come from those days on the farm in rural Placerville.
"My career has surpassed my expectations on every level including the fun I would have doing what I really wanted to do," said Emery. Now the hard-charging attorney is settling into a new life that gives him more time for family, friends, community work and his country property in Santa Rosa. It truly gets to the heart of who Emery really is when he says, despite world renown professors at Harvard, his most influential teacher ever was his agriculture instructor at Placerville High School. Emery said ag teacher Keith Smith guided and nudged him at a crucial juncture in his life when he needed a mentor and strong father figure. He said he has never forgotten Smith's wisdom in effectively guiding boys toward manhood. Emery said without Smith's guidance it all could have gone the other way, with no Harvard, law school or legal career.
"Keith Smith made me realize I was responsible for my own behavior and my own future at a time when it really mattered about the direction I would take," said Emery.
In retirement, Emery and his wife Allison Sanford travel the world while spending time with their family, which includes six grandchildren. Both are involved in organizations that build community and make Sonoma County a better place to live.
Still the farmer, Emery also nurtures 65 olive trees, producing his own olive oil, and grows 25 varieties of heirloom tomatoes, which he unloads on family and friends during harvest's peak. Farming keeps him grounded and in tune with the seasonal rhythms, always a good thing for a fruitful life.