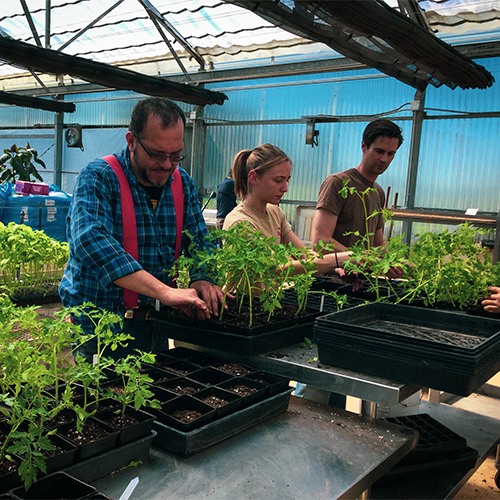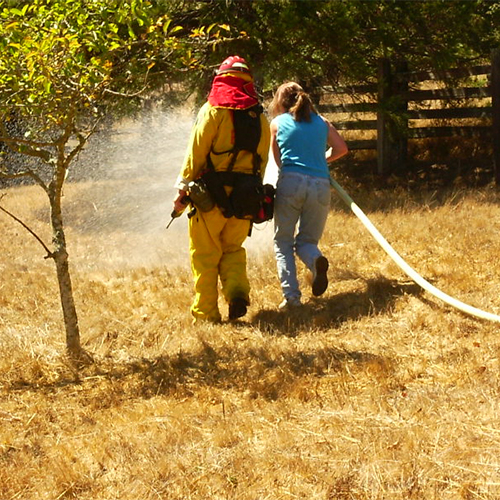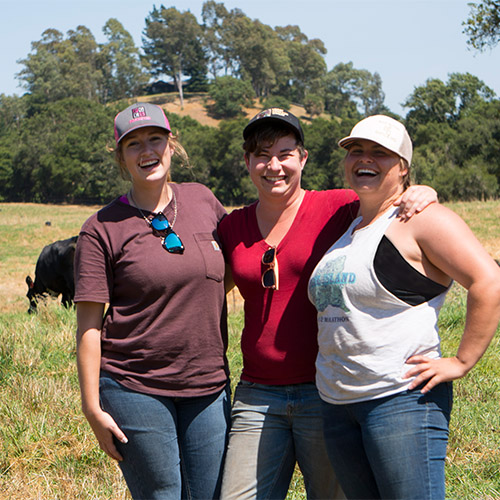 SRJC's Wildfire Resilience Program combines rigorous college coursework and community workshops with hands-on training in a variety of wildfire resilient practices including prescribed grazing, forest fuel reduction, defensible space, and post-fire mitigation and restoration.
College coursework in the Animal Science, Natural Resources, and Environmental Horticulture programs include dynamic lectures and hands-on lab activities which promote wildfire resilience within these disciplines and also prepare students for careers or transfer to four-year colleges. Students will have the opportunity to hone their skills in a variety of work-based learning arrangements, including paid internships at SRJC's Shone Farm Campus as well as through community partners conducting wildfire resilience work in high-need areas of the County.
The Animal Science program will train students about prescribed grazing to reduce fire risk, as well as maintain post-burn areas and fuel breaks. Students in the Natural Resources program will gain fuel reduction training in Shone Farm's 120-acre forest focusing on thinning, burn piles, fuel breaks, restoration, and long-term monitoring of treatment areas. The Environmental Horticulture program will focus on defensible space, covering firesafe practices for landscape design, construction, and maintenance within the first 100 feet of residential properties. Finally, the Adult Education Program will offer professional development in wildfire resilience and home hardening practices for individuals seeking to advance existing careers in landscape maintenance and construction.
SRJC offers the following deliverables for our wildfire resilience workforce training:
300+ students per year introduced to and educated in topics pertaining to wildfire resilience
In-house paid internships, wildfire resilience focus – approximately 5-10 per academic year
Stipends and/or college units for internships with partner organizations, wildfire resilience focus: 10-15 per academic year
Instructors who are subject matter experts and skilled in teaching with a focus on career education
Instructors who have cultivated networks of industry technical experts and employers in wildfire resilience-related fields
Shone Farm as a demonstration facility for different approaches to wildfire resilience
Resources and ability to scale
Match funding for many of the budget categories
Equity focus and commitment with resources
A conduit to get qualified students prepared with a common basis of knowledge and placed into organizations where they can do the most good for overall county fire risk reduction
Fall 2021 Classes
Animal Science
ANSCI 61 - Livestock Feeding and Nutrition
Section 0670: Hybrid, Tuesdays 9:00am-11:00am; 08/17/21-12/10/21; Instructor: Amy Housman; Shone Farm Pavilion.
ANSCI 153 - Sustainable Ag Production with Animals
Section 0686: Online; 8/16/21-12/10/21; Instructor: Amy Housman.
Horticulture
HORT 8 - Landscape Plants: Summer/Fall
Section 0053: Hybrid, Mondays 1:00pm-4:00pm; 8/16/21-12/10/21; Instructor: Joel Grogan; Lark Hall 2086.
HORT 184 - Introduction to Arboriculture
Section 1887: Wednesdays 6:00pm–8:45pm; 8/25/21-12/11/21; Instructor: Merlin Schlumberger; Shone Farm.
Natural Resources
NRM 103 -Restoring Native Habitats
Section 0694: Wednesdays 10:00am-3:00pm; 08/18/21-09/08/21; Instructor: Alison Pollack; Shone Farm Pavilion.
NRM 111 -Orientation to Env. Resource Management
Section 1496: Thursdays 12:00pm-3:00pm; 08/19/21-12/10/21; Instructor: Briana Boaz; Shone Farm Pavilion.